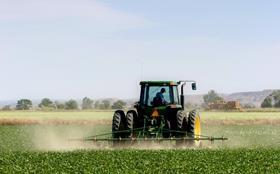 A series of materials have been made available to young farmers to help educate them about plastics and sustainability.
A joint initiative between theNational Federation of Young Farmers' Clubs (NFYFC) and Environment Agency has led to the creation of activity sheets, quizzes and general guidance for young people who have a love for agriculture and rural life.
The agricultural industry is one of the sectors the Environment Agency's plastics and sustainability team is engaging with as part of the Interreg Preventing Plastic Pollution programme, which identifies and targets plastics hotspots from river to sea. The team is also working with the education, business, community, sport and fishing sectors.
Environment Agency project officer Claire Horrocks said: 'Working with the NFYFC is a great way to reach young people. Those working in agriculture and related industries have such an important role to play in protecting our environment. We hope these resources will be a fun and inspiring way to help YFC members to think about the plastic they use and the responsibility we all have to reduce unnecessary plastic use and manage our waste properly.'
NFYFC chairman Rachel Goldie added: 'We are really excited to be launching these resources for our members with the support of the Environment Agency. Young Farmers' Clubs are eager to do all they can to help combat climate change and these fun activities will help our members work together to make proactive changes in their local rural communities and on farms to prevent plastic pollution.'