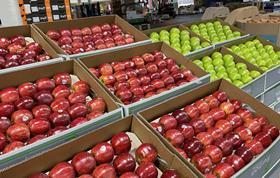 Alfred E. Chave (AEC) has added apples and pears to its product portfolio.
The Brisbane-based fresh produce company is working with some of Australia's leading apple and pear growers to supply its customers across the domestic and international markets.
"We are constantly looking for opportunities that support and create value for our customers and suppliers while connecting with everyday people with the best fresh fruit and vegetables we have to offer," said Anthony Joseph, managing director of AEC.
"The addition of this new category sees us welcome some of Australia's leading apple and pear growers – the Andreatta Family of Golden Valley Orchards in Stanthorpe, Batlow Fruit Co-Op, Prima Fresh and FreshmaxAustralia.
"We have a complete range of apple varieties that Australia has to offer: Red Delicious, Granny Smith, Royal Gala, Pink Lady and the amazing Kanzi. These are complemented by a complete range of pears: Packham, Bosc, Jose, Williams, Corella, and the amazing Piqa Boo and Red Lantern pears."
AEC has appointed Cameron Cooper to head up its apple and pear category.Cooperwill be supported by his son Zach. Together, the pair bring over 40 years of knowledge and expertise to the AEC team.
"It has been great to welcome Cameron and Zach," Joseph said. "They have hit the ground running and are a great cultural fit. We are proud to welcome them to the AEC team."