Over 1,600 delegates from 18 countries gather in Adelaide for agri-tech event
After a two-year hiatus, AgriFutures Australia's EvokeAg event returned this week.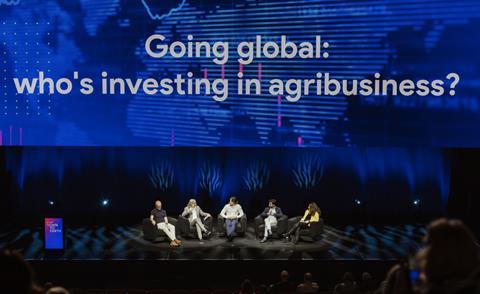 Over 1,600 delegates from 18 countries converged on the Adelaide Convention Centre for the two-day event (21-22 February), which examined agri-food technology. The theme for this year's event was 'Down to Earth'.
"EvokeAg 2023 is about the relevance and application of tech on our farms and across the supply chain," said John Harvey, managing director of AgriFutures Australia. "It's about bringing big challenges, big ideas, big opportunities, local problem solvers and local solutions back 'Down to Earth'."
Speaker programme
The event's conference programme featured over 100 national and international speakers from across the agri-tech ecosystem. This included farmers, innovators, researchers, corporates, government and investors.
The programme ignited with an engaging plenary session on day one, where venture capitalists from leading firms across Europe, the US, Asia-Pacific and Australia shared their insights on the factors impacting global agri-food tech investment – and where the unexpected opportunities for the future lay.
This included US-based Victor Friedberg, founder of Foodshot Global, who announced the launch of FoodShot APAC (Asia-Pacific). Friedberg said Foodshot Global has its sights set on establishing a powerful alliance of venture funds, corporates, governments, universities and research institutes in the Asia-Pacific region.
"I think Australia is a particularly ripe market for this space that looks to understand our food and its properties in fundamentally different ways," Friedberg said.
"Australia is home to some really exciting, cutting-edge science, research and companies. This was one of the many reasons we decided to establish FoodShot APAC in Australia initially as the starting point into the Asia Pacific."
Other highlights on the programme included a session to help producers move from digital distraction to meaningful decision-making.
There was also a thought-provoking conversation between indigenous venture capitalists, advocates and researchers on how the modern application of traditional practices is creating market demand for Indigenous food and beverage products, which could transform agri-food value chains and Indigenous communities alike.
Opening the proceedings on day two, Australian minister for agriculture, fisheries and forestry, Murray Watt, took to the stage to map out his vision for Australia's agriculture industry for 2023.
"Despite the ongoing challenges associated with the impacts of recent climate events, Australia's agricultural exports are in an incredibly strong position and forecast to break records at over A$72bn this financial year," said Watt.
"Our farming systems are resilient but we know that research and development will continue to play a pivotal role in the success of our primary industries in the future."
Start-up support
A major drawcard for many delegates was Start-up Alley, which featured 40 innovative agri-food technology solutions that could propel a more productive, sustainable future.
These included a data services platform that helps farmers more accurately measure, monitor and report natural capital assets – enabling them to participate in natural capital markets.
End-to-end IoT solutions for farmers to better manage resource use in the field were also on display, as were digital solutions that help farmers mitigate and protect against biosecurity risks on their farm in real-time.
Five participants in the EvokeAg 2023 Start-up Program were given the opportunity to pitch to some of the world's most influential agri-food tech investors, representing A$450bn in capital.
"The Investor Pitch Dinner attracted more capital in one room than any agri-tech investor event or VC (venture capital) panel ever held in Australia," according to a media release from EvokeAg. "For the dounders seeking Seed to Series A investment, it was an invaluable opportunity to pitch their solution – and showcase Australian and New Zealand agri-food tech innovation on a global stage."
Bright future
Harvey closed out the event by highlighting the potential technology has to transform the agri-food sector.
"If these last two days have shown us anything, it's how precious time is, and how important collaboration will be moving forward – to achieve our goals as a nation and as a global food system," said Harvey.