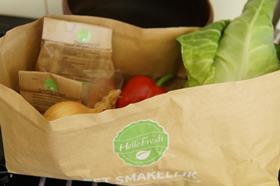 Meal kits, with fresh, pre-portioned ingredients for consumers to create a healthy home-cooked meal, are increasingly popular in Australia. These easy-to-use/easy-to-prepare boxes offer the perfect sweet spot between convenience and gratification. Meal kits have been gaining traction in the U.S. for the past few years, expanding in size three times faster than any other channel. Here in Australia, meal kits are estimated to be worth over A$300m in annual sales and growing at a rate of 40 per cent compared to 2018.
For brands and retailers, Australia's meal kit shoppers are an attractive consumer group. These shoppers are big spenders, with the majority having among the highest monthly expenditure on food and drinks in the country; and they spend just over one-fifth of their overall monthly food and beverage spend on ready meals/meal kits. Understanding who's buying meal kits and what influences their purchasing decisions is crucial to reaching these shoppers and further growing this market.
OPPORTUNITIES ARE IN STORE
In the US, meal kits started as a mostly web-exclusive offering. However, the market has now grown into a multi-billion dollar industry, with approximately three-in-ten shoppers purchasing their meal kits in-store. According to the latest Nielsen US data, 187 new meal kit items were introduced at bricks and mortar retail outlets during the 52 weeks ending 29 December 2018.
In-store offerings bring shoppers a new way of buying meal kits, while also giving retailers another opportunity to drive foot traffic and increase shoppers' overall spend. In Australia, half of the growth of meal kits comes from bricks and mortar supermarkets, supermarket online sales and discounters. Meanwhile, online sales of meal kits already represents 9 per cent of total food and grocery online sales.
So who's buying meal kits? Meal kits are most popular among young families and young millennials, who see them as a healthy alternative for out-of-home meals. These consumers are generally time-poor, but health-conscious. There is, however, still plenty of scope to grow the category further by enticing new consumers to purchase these pre-packaged meals.
While meal kits sales are quickly rising, only 6 per cent of Australian households have purchased a meal kit in the last year. For continued growth, retailers need to dial up the key enablers for purchasing, while working to eliminate any purchase barriers.
More than one-in-two shoppers say that price is a barrier for purchase, but with lower-cost options like Dinnerly (under A$8 per portion) now in-market, this will likely change. For those who don't purchase meal kits online because they prefer the in-store shopping experience, retailers should look to optimise the way meal kits are merchandised. This can include where the meal kits section is in the store, what products are ranged alongside meal kits and offering choices that are both convenient and inspirational.
For people who dislike the extra charges associated with purchasing meal kits (such as delivery and handling), retailers have an opportunity to take advantage of this with their in-store meal kit offering. To address consumer concerns regarding the freshness of the products, retailers could consider different ways to highlight the freshness or the time of packing.
REDUCING THE RISK OF ENTRY
In the US, meal kit distribution is spreading across multiple channels and traditional retailers are reducing their risk by partnering with grocery brands when developing their meal kit offerings. We're already seeing collaborations like this in Australia, with Coles partnering with Uber eats and the Woolworths investing over A$30m in Marley Spoon. In addition to these types of partnerships, Coles and Woolworths have started using pre-cut meats and pre-measured portions of rice, noodles, vegetables and sauces in the supermarket fresh section. In essence, this gives shoppers the option to make their own meal kits in-store, while reducing their food waste. Meal kits are also an opportunity for manufacturers to collaborate with meal kit providers, like in the case of Perkii Kombucha and HelloFresh. This means that meal kit providers can also become a platform for brands to trial their new product launches.
It's clear that shoppers are showing a continued interest in meal kits, especially in their ability to deliver fast and fresh meal options. One thing is for sure – meal kits pose a large opportunity to expand in-store spending by thinking outside the box.