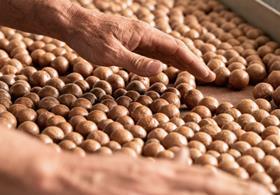 The 2022 Australian macadamia crop will be impacted by recent flooding on the country's East Coast, according to the Australian Macadamia Society (AMS).
Growing regions affected include the Glass House Mountains and Gympie in Queensland, and the Northern Rivers and North Coast regions of New South Wales.
Early predictions are that up to 10 per cent of the crop may be lost in the regions affected by the weather conditions, although AMS chief executive Jolyon Burnett said it's still too early to quantify.
"As these regions are only in the early stages of harvest, there was minimal crop on the ground when the events hit," Burnett explained.
"It is however the challenges our growers are now facing with orchard clean up that is of most concern.
"Harvest may now be delayed in those affected growing regions while growers clean up their orchard floor, and this could further impact the crop."
Australia's largest macadamia producing region, Bundaberg, was not impacted by the flooding. Harvest is well underway in this region.
The Australian macadamia crop was originally forecast to reach 54,930 tonnes in-shell at 3.5 per cent moisture (58,900 tonnes in-shell at 10 per cent moisture). This figure will be reviewed in May.