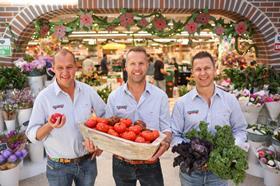 Harris Farm Markets has launched a new range of premium products made from 'upcycled' perishable food items.
The Re-purposeful Picks range will consist of more than 30 products, each of which extends the shelf life of items that otherwise would have been thrown away. The range includes fruit smoothies, breadcrumbs and vegetable pizzas.
Tristan Harris, co-CEO of Harris Farm Markets, said the retailer is proud to be the first major Australian grocery chain to release a product range of this nature.
"Through this new initiative, we will end up with less products on shelves that are nearing their expiry dates as items will be rotated sooner to create the Re-Purposeful Picks range," Harris said. "This means overall, we are creating longer life cycles to minimise food wastage across all 25 of our stores."
The 2021 National Food Waste Baseline estimates 7.6m tonnes of food is wasted by Australians annually, costing the economy more than A$36bn each year.
Harris Farm has pioneered sustainable initiatives in the retail space, becoming the first chain store to ban plastic bags at the beginning of 2018.
It also challenged established food perceptions on fruit and vegetables with its Imperfect Picks range, an initiative supported by an eye-catching marketing campaign that won the PMA-Produce Plus Marketer of the Year Award in 2015.
To date, Harris Farm has invested more than A$16m into its sustainability initiatives, which have collectively eliminated an estimated 31,000 tonnes of food waste.
"Harris Farm has listened to the concerns of its customers about food waste in stores, and for more than a year we have been working on a way to make a meaningful impact without compromising our daily offering to customers," Harris added.
"The Re-purposeful Picks range was created as a way for Harris Farm to take action at a store level to combat climate change, empowering each branch to reduce its daily food waste."