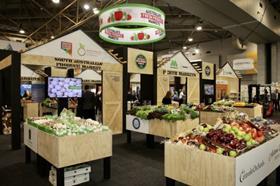 Hort Connections 2021 has been heralded a success, with Ausveg and PMA Australia-New Zealand (PMA A-NZ) joining forces to deliver the premier event in Australian horticulture.
Over 2,000 registered delegates attended the conference in-person at the Brisbane Convention and Exhibition Centre – and virtually – from 7-9 June.
Hort Connections 2021 encompassed speaker sessions, a trade show and a variety of networking events for all members of the horticulture supply chain.
"The conference provided an opportunity for delegates to build their knowledge and networks and find out new ways to improve the productivity and profitability of their businesses," Ausveg and PMA A-NZ said in a joint statement.
"The Hort Connections conference encompasses the vegetable, fruit, nut, cut floral and nursery sectors. This year, over 60 industry organisations and supply chain partners supported the event to provide added value to delegates and allow them to access the expertise and services of a range of industry members in one central location."
National Awards for Excellence
Australia's leading horticulture growers and industry members were recognised at the Hort Connections 2021 National Awards for Excellence.
Presented at the Hort Connections Gala Dinner on 9 June, the awards acknowledged the dedication and determination of the industry's leading growers, researchers and suppliers.
"The National Awards for Excellence provide an opportunity for the industry to come together, recognise the outstanding achievements of our leading growers and industry members, and celebrate the great work that our industry undertakes to keep Australia healthy and safe," said outgoing Ausveg chief executive James Whiteside.
"It was more important for the industry to meet up and reconnect with each other this year than ever before after the unprecedented challenges over the last 18 months due to the pandemic, and it was pleasing that so many people could come together, celebrate the industry's successes and provide support to peers and colleagues."
Winners of the Hort Connections 2021 National Awards for Excellence were:
• Andrew and David Moon – Syngenta Grower of the Year
• Xavier Toohey – Corteva Agriscience Young Grower of the Year
• Catherine Velisha – Boomaroo Nurseries Women in Horticulture Award
• Steven Moffatt – Hort Innovation Exporter of the Year
• Jenny Ekman – Bayer Researcher of the Year
• East Gippsland Vegetable Innovation Days – Visy Industry Impact Award
• Andrew Smith – E.E. Muir & Sons Community Stewardship Award
• Mark and Darren Todaro – Butler Market Gardens Environmental Award
• The Yield Technology Solutions – PMA A-NZ Tech Innovation Award