Organiser highlights speaker programme, increased networking opportunities and record exhibitor numbers
Hort Connections, Australasia's premiere horticulture conference and trade show, returns to South Australia in 2023.
The Adelaide Convention Centre will host this year's event, running from 5-7 June.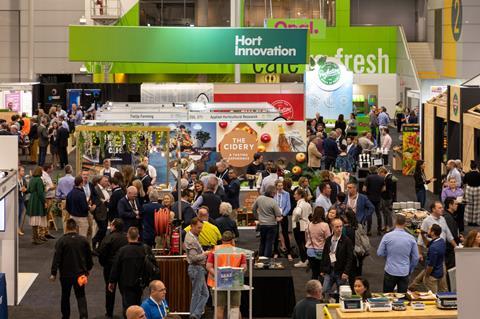 Ausveg's national marketing manager, Nathan McIntyre, tells Produce Plus about what visitors can look forward to at Hort Connections 2023.
We're just over a month away from Hort Connections 2023. How is the event shaping up?
Nathan McIntyre: We have been really pleased with the interest and uptake to-date. Registration numbers have been well ahead compared to the same time in 2022 and we have been able to lock in an excellent programme of speakers.
I understand exhibitor space for the trade show is sold out. What do you attribute this strong turnout to?
NM: Exhibitor space for the trade show sold out in early-April. It will be the largest trade show ever produced by Hort Connections.
I attribute the strong interest to the increase in grower numbers attending over the last couple years and the opportunity Hort Connections provides to enhance business connections.
Do this year's exhibitors represent a wide cross-section of the horticultural supply chain?
NM: With over 200 exhibiting companies, the entire supply chain is represented in various forms. From ag-chem and fertiliser companies, through to machinery and technology services, there is an exhibitor of interest for every delegate at Hort Connections.
In addition to this, visitors can expect to be provided with ample networking opportunities to strengthen important industry relationships.
How is the speaker programme shaping up?
NM: This year is looking to be one of the strongest speaker programmes we have produced. The plenary sessions will be headlined by Stephanie Alexander – a well-known cook, restaurateur, food writer and champion of the quality and diversity of Australian food – along with 'food futurist' Tony Hunter, who will dive into what is in store for the industry moving forward.
The Women in Horticulture session will feature a presentation from behavioural scientist Milo Wilkinson, who will be discussing how mental agility can assist us all in resilience.
The trade show speaker sessions will also be a prominent feature of the programme, with two dedicated presentation areas now set up to facilitate content.
What are some of the key themes or topics that will be examined on the speaker programme?
NM: Sustainability, traceability, export, technology and new products will feature heavily throughout the speaker programme and trade show.
What else can visitors look forward to over the three-day event?
NM: This year, Hort Connections has really leaned into the networking aspect and much of the programme has been built around providing visitors with the chance to catch up as an industry cohort. After what has been an extremely challenging time for industry, we want Hort Connections to be a space for growers and supply chain stakeholders to learn, network and engage with colleagues to further their own businesses and the outcomes for the entire industry.
In addition to this, we will be celebrating the high achievers in industry through the Horticulture Awards for Excellence, which will be presented at the Gala Dinner on 7 June.
Are there any other key points you'd like to highlight?
NM: The final point I'd like to highlight is just a big thank you to all the sponsors, exhibitors, visitors and supporters of the event. Without this support, the event would not run, so we are extremely grateful that we are able to provide such a valuable event to the industry each year.
Hort Connections is organised by Ausveg and International Fresh Produce Association A-NZ. Click HERE for more information.