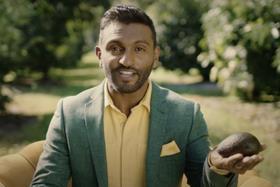 Comedian Nazeem Hussain is the hero talent for a new campaign promoting Australian-grown avocados.
The integrated 'Our Green Gold' campaign will feature across television, out of home advertising, social media (Facebook and Instagram), digital advertising, and public relations.
A television commercial, featuring Nazeem, hit Australian screens on Sunday (2 May). The first burst of activationswill run until the end of June 2021.
The campaign is managed by Hort Innovation and funded by the avocado marketing levy. It will be delivered under the consumer-facing industry brand Australian Avocados.
The move comes amidst a production boom for avocados in Australia, with industry looking to keep demand ahead of supply.
"The objective is to develop a campaign that emotionally connects with Australian consumers by leveraging the inherent love people have for avocados," according to a blog post prepared by Hort Innovation and published on the website of peak industry body Avocados Australia.
"By building brand love, we will help drivepreferenceof Australian Avocados, grow unaidedbrand recall (awareness)and driveconsideration,which will contribute to increasing thefrequency of purchase. All of which are important when faced with a volume uplift of 30 percent YOY (year-on-year)."
"It's green, it's gold. It's a national treasure. In order to celebrate the iconic status of the Avocado and elevate it beyond the plate and into culture."
Read more about the Our Green Gold campaign in the Winter edition of Produce Plus.