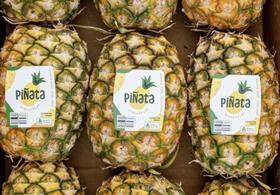 Australian consumers can expect an abundance of pineapples to hit the market later this month, according to one of the country's largest growers.
Stephen Scurr, general manager tropical at Piñata Farms, said the new-season harvest in Mareeba, Far North Queensland, is set to beginin late-October.
"Winter production will soon finish at Wamuran following an earlier-than-usual flush of large fruit in July and August. We traditionally expect a flush of big fruit around September but this year it came earlier, due to regular rainfall in the south-east in the past two years," Scurr said.
"Mareeba's spring crop is looking promising and we expect to harvest excellent quality fruit throughout the season (until next March).
"Consumers can expect average-sized fruit around 1.5kg which is full of flavour and has a touch of green on the skin yet is sweet inside. That's typical for this time of year. In winter, fruit often has a more orange shell."
Scurr said demand for pineapples has remained stable in the Australian market over winter months.
'Pineapples are generally an impulse buy," he explained. "If fruit looks great on the shelf, shoppers will buy it. Despite the upheaval of the past two years with many Australians in and out of lockdown, pricing for pineapples has also remained stable.'
Piñata Farms produces pineapples for the fresh market at Wamuran and Mareeba, supplying leading supermarkets nationally. Several third-party growers in the Wamuran district also produce pineapples for Piñata Farms.