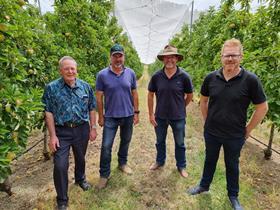 Australia's Kanzi apple growers are predicting a record crop in 2022.
Harvest is got underway in early March, with the overall volume forecast to exceed 5,800 tonnes, an 11 per cent increase on last year.
Good weather conditions and a diligent tree planting programme are the drivers behind the steady and sustainable lift in Kanzi apple supply.
"We've had good growing conditions, with orchard regions thankfully unaffected by the recent floods. While a significant investment in netting protected the crops from early season hailstorms," said Elisa King, general manager of Horticulture Brand Management Australia (HBMA), the master licensee for Kanzi in Australia.
"Another key factor driving the sustained lift in volume is our decade-long, tree planting programme, which is now literally bearing fruit.
"This will help us keep up with demand and maintain quality supply into summer, with Aussies expected to munch through 34m Kanzi apples this year."
More than 40 Kanzi growers recently met in the Adelaide Hills. The growers toured the Ceravolo and Flavell orchards, discussed the upcoming season, potential markets, orchard insights and attended agronomist briefings.
"Kanzi is still a relatively new variety in Australia and it's a valuable opportunity to come together to share best practice learnings with other growers, as well as collectively plan for the future," said Matthew Flavell, a Kanzi grower and third generation orchardist from the Adelaide Hills.
Read more about Kanzi, including marketing plans for the 2022 Australian season, in the upcoming Autumn edition of Produce Plus.