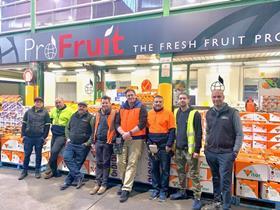 Samson's Fruit & Vegetable Supply has acquired fellow Sydney-based fresh produce company ProFruit.
Established in 2010, ProFruit specialises in supplying apples, citrus and stonefruit, as well as pears, grapes, berries, avocados, mangoes, kiwifruit and tropicals. Its stand within B Shed at Sydney Markets is located directly adjacent to Samson's.
Mark Bromley, director of Samson's Fruit & Vegetable Supply, said the acquisition would provide his company with broader exposure within the markets.
"When the opportunity arose to purchase ProFruit, it was the logical next step as they are directly next door," Bromley explained. "With arguably the best position within the markets, the exposure is invaluable."
Bromley said ProFruit's range of quality produce would complement Samson's product offering.
"This acquisition will only strengthen Samson's capabilities in delivering a wide range of produce to a larger audience," Bromley said. "We look forward to working with ProFruit's current grower base and ensuring a seamless transition."