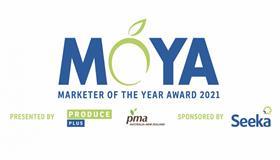 The five finalists for this year's PMA-Produce Plus Marketer of the Year Award (MOYA), proudly sponsored by Seeka, will showcase their campaigns at Hort Connections next Tuesday, 8 June.
From 3.30pm onwards, each finalist will deliver a short presentation outlining the key elements of their campaign, before taking part in a discussion about the strategic thinking behind their marketing push.
The MOYA 2021 finalists are:
The LPG Cutri Fruit Global Team for the 'Saturn Peach by Galaxy Fruits' campaign

Anna Tu from Hort Innovation for the 'Australian Cherries' campaign

Fresh Markets Australia for the 'A better choice!' - Shop & Win campaign

Buy West Eat Best Marketing Team for the 'Good choice, WA' campaign

Luke Couch from Nutrafruit for the 'No Ordinary Plum' campaign
Due to a state-wide lockdown in Victoria, not all finalists are travelling to this year's event. Those unable to attend will present their campaigns via video link.
The winner of the 2021 PMA-Produce Plus Marketer of the Year Award will be announced at the Hort Connections Gala Dinner on 9 June.
The Hort Connections trade show and conference will take place at the Brisbane Convention and Exhibition Centre on 7-9 June. The MOYA Showcase will take place at the Trade Show Presentation Area from 3.30pm on 8 June.
The Marketer of the Year Award, now in its tenth year, recognises outstanding achievement over the past 12 months in fresh produce marketing in Australia and New Zealand.