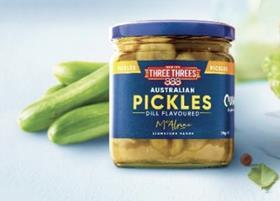 Perfection Fresh has partnered with condiments producer Three Threes to launch a range of Australian pickles.
Three Threes will use Perfection's Qukes baby cucumbers as part of its new McAlpine Signature range. Perfection will supply product that doesn't fit within its existing Qukes pack formats, due to shape or size.
Perfection Fresh chief executive Michael Simonetta said the partnership is a prime example of crop utilisation and environmental sustainability, helping to ensure all Qukes production is enjoyed by consumers.
"We're always looking for ways to minimise food waste across our supply chain," Simonetta said. "This partnership with Three Three's helps us achieve our sustainability goals as well as giving consumers another opportunity to enjoy Qukes in a new way."
Three Threes' McAlpine Signature pickles are available at Woolworths and Coles supermarkets.
Tim McAlpine of Three Threes said the dill flavoured Australian pickles have a bright, sharp style flavour.
"For over 100 years Three Threes has proudly provided the best condiments to Australian consumers," McAlpine said. "It would not be possible without all the hard work and dedication from Australian farmers.
"Perfection Fresh is perfect example of this and we are extremely proud to be working with another Australian family-run business who strive for top quality produce every time. It is only a young partnership but both families see huge potential working together into the distant future."