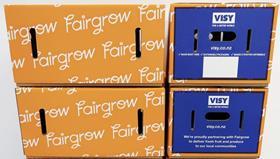 Packaging specialist Visy has partnered with New Zealand-based charity Fairgrow.
The move will see Visy supply sustainable packaging for Fairgrow's programmes, which provide fresh fruit and vegetables to New Zealanders in need.
Launched by T&G Global in December last year, Fairgrow has donated more than 900 tonnes of fresh produce to individuals and families throughout the country.
Fairgrow manager Kim Ferguson said one of the challenges of distributing fresh produce is maximising shelf life, ensuring products reach homes in the best condition.
"Fairgrow aggregates produce from our community of generous growers and distributes it through New Zealand Food Network to a range of food hubs throughout New Zealand," Ferguson explained. "Due to the delicate nature of fresh produce, quality packaging is important for transportation ease, ventilation of fruit and maximising shelf life.
"Visy has generously donated export grade cardboard apple bins and fruit and produce cartons to package donated produce and then to be reused in food hubs across Aotearoa."
Aaron Ashby, general manager of Visy Fibre Packaging New Zealand, said his company is proud to support Fairgrow and contribute to its mission of supporting those in need.
"Visy's network may span the breadth of New Zealand, but our operations and people are primarily part of local communities - this is one part of our commitment to making a positive difference to those communities," said Ashby.
"Sustainability sits at the centre of Visy's operating model. Through this partnership, not only can we help families in need, but also reduce food waste at the same time."
Like Visy, Fairgrow is committed to reducing waste and finding solutions to utilise excess or surplus before it impacts the environment in the form of waste produce. The charity works with growers to capture surplus produce and ensure that any produce without a commercial home is donated to people across New Zealand who are in need.