Chile's stonefruit sector has kicked off its new promotional campaign for the Chinese market.
A launch ceremony for the month-long promotion, which aims to build on last year's inaugural Chinese campaign, was held in Shanghai on 1 March at an outlet of QuickMart, the grocery store operated by leading food delivery platform Ele.me.
"The main Chilean stonefruit exported to China are nectarines and plums; however, there are many different varieties, each with its own unique flavour: that's why we are actively promoting stonefruit from Chile in China," said Charif Christian Carvajal, marketing director for Europe and Asia at Asoex.
Consumers at the event were able to sample an array of varieties including Chilean Sugar Plum, Dapple Delight, Friar Black and Fortune varieties of plum and the Majestic, Bright Pearl and Arctic Fire varieties of nectarine.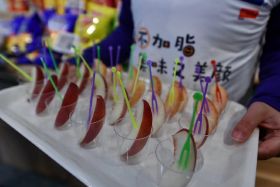 The campaign will feature offline promotions in QuickMart stores, with more fruit tastings on weekends, and online promotions targeting consumers within 3km of the stores, comprising advertising banners, push messages, SMS messages, and promotional leaflets delivered with food orders, by leveraging the Ele.me app and website.
Chilean stonefruit is typically available from the end of December to late March or early April and is proving increasingly popular in China, with 41,319 tonnes of plums and 16,654 tonnes of nectarines imported into the country last season.
Approximately 49 per cent of fresh nectarines and 74 per cent of fresh plums imported into China in the 2016/17 season originated from Chile. Estimates for this season indicate that there will be an increase in the volume of Chilean Sugar Plums imported into China—owing to the popularity of this product with Chinese consumers.
The campaign will continue throughout March and into early April with online and in-store activities promoting Chilean nectarines to consumers across China, as well as advertisements in both general media and produce industry trade media outlets.
The ecommerce part of the campaign will take place in partnership with the Fruit Day app, with a promotional banner on the main page and articles distributed to consumers via the Fruit Day WeChat account to persuade them to try Chilean stonefruit.
From 1 March, Chilean stonefruit ordered from Fruit Day will arrive in specialised packaging featuring stickers with the campaign slogan of "spring up your life with stonefruit from Chile." Under this slogan, the current campaign aims to position Chilean nectarines and plums as healthy alternatives that are very low in fat and abundant in vitamins.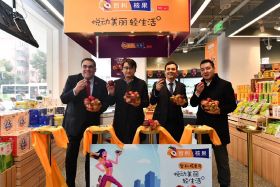 Meanwhile, a series of in-store promotions at Walmart stores in 11 Chinese cities got underway in late February and will continue to April 7. It will promote Chilean nectarines and all varieties of Chilean plums.
This promotion will push far into interior China, including lower-profile provincial capitals like Nanning in Guangxi province and third-tier and below cities like Lijiang and Wenshan in Yunnan province.
"Due to the fast growth of the Sugar Plum segment and strong positive feedback from consumers, a second in-store promotion will focus exclusively on sugar plums," Asoex said.
"This promotion will be carried out in 60 stores in the cities of Shenyang, Shanghai, Nanjing and Guangzhou starting on 4 March. Retail partners will include supermarkets and hypermarkets (Auchan, CityShop, G-Super, Hema, Metro, RT-Mart and Sam's Club) and specialist fruit retailers (30+, Xianfeng, Pagoda and Wellfruit).
"ProChile is very proud to see the successful Chilean cherry and blueberry promotions now followed by the Chilean stonefruit promotion," said Juan José Vidal Wood, Trade Commissioner at the Shanghai office of ProChile.
"In 2018, Chile was again the No. 1 fruit exporter to China in terms of value, which was facilitated by the two countries' Free Trade Agreement, which allows Chilean fruits to enter the China market with zero tariffs."