Easy-peel seedless Californian mandarins, branded Delite, are being showcased this season exclusively at some 800 Woolworths stores across Australia
T&G commercial manager, Mark Bohringer (pictured) said he worked closely with the Mullholland Citrus team on a proposal that would allow them to market exclusively with Woolworths stores.
"This season we're showcasing Delite mandarins within Woolworths stores in New South Wales, Victoria, Queensland and Tasmania," said Bohringer. "Next season we look forward to working with the supermarket chain on extending the range into other states while also looking at the opportunity of a pre-pack option into the range.
"This will assist the Mulholland team in moving 'more of the crop' across multiple size profiles while also offering the consumer the added value of convenience," he said.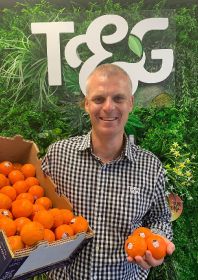 The campaign will run from mid-January through to early April and Bohringer said the results have been encouraging so far, with volumes exceeding expectations.
Heather Mullholland of Mullholland Citrus, the oldest grower of the Delite branded mandarins said the company is working with T&G Global to increase distribution of its premium Californian mandarins.
"They have presented us with numerous global opportunities for our product while also being very well educated in the retail environment and are in tune with what customers want," she said.
Bohringer commended Woolworths on an exceptional job marketing and merchandising Delite.