Asia's grocery market sales will continue to exceed the combined total of Europe and North America, according to global food and grocery experts IGD.
The IGD's global grocery forecast for 2021 suggest that Asia's grocery market is set to increase by $1,073 billion, an annual compound growth rate of 6.3 per cent.
The UK will rank number seven in the top 15 largest grocery markets in 2021 with a value of $307 bn (£241.4bn), according to the forecast. China will extend its lead over the USA as the world's biggest grocery market with a value of $1,612 bn compared to $1,311bn respectively.
Joanne Denney-Finch, IGD chief executive said: "Asia's grocery market will continue to prosper with China remaining comfortably in first place and three other Asian countries within the top 10. Millions more people across Asia will become middle class and many more consumer goods companies will view this region as the key to their growth strategy."
The forecasted figures assume a good level of international political and economic stability.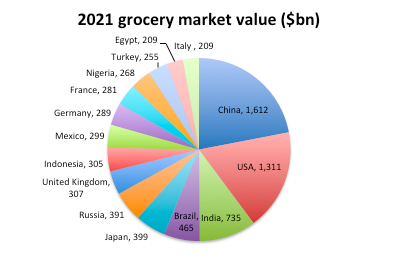 Figures according to IGD forecast.