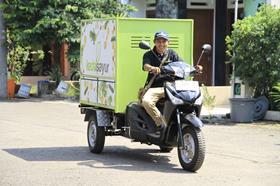 Kedai Sayur, an Indonesian start-up connecting vegetable hawkers with technology, has secured $1.3m of seed funding for its business led by Singapore-based venture fund, East Ventures.
Kedai Sayur, which translates to 'Vegetable Kiosk', was established in late 2018 with the goal of providing vegetable hawkers with the best quality and best priced fresh produce utilising technology.
This round of funding will allow the company to bring onboard more vegetable hawkers as partners, in addition the 2,000 existing partners it has in the Greater Jakarta area.
Two of the main types of vegetable grocers in Indonesia are typical kiosks, which provide fresh produce for walk-in customers, and hawkers, which use handcarts and sell fresh produce door-to-door.
According to Kedai Sayur, while most Indonesian customers rely on vegetable hawkers to get their daily fresh produce, hawkers are struggling due to a long supply chain where fresh produce travels through multiple hands in between leaving growers and reaching hawkers.
This drives up the price of produce, leaving hawkers with low-quality produce and a low profit margin, the start-up said.
Kedai Sayur has tried to address the problem by working with several farmers and partners directly for product sourcing and distribution. Vegetable hawkers who have joined Kedai Sayur as a partner can access these products through apps and pick them up from nearby drop-off points. Meanwhile grocers can register as a drop-off point.
The start-up also offers its partners a new kind of delivery vehicle called 'Si Komo' to allow them to reach their door-to-door customer in a more efficient way.
The vehicle can be transformed and utilised for other services such as delivering packages or selling foods, allowing partners to have additional income other than selling fresh produce.
"For the longest time, many have attempted to fix this problem but none yet to succeed," said Adrian Hernanto, chief executive of Kedai Sayur.
"With our vast network and technology utilisation, we can empower the fresh produce market and prove that the grassroots economy, like the vegetable hawkers, can also feel the benefit of technology inclusion," Hernanto said.
"We trust our mission will improve hawkers' overall life as we free them from working odd hours and open multiple potentials of revenue streams."