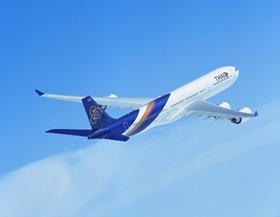 Thai Airways International has expressed interest in expanding its fresh fruit and vegetable cargo services to help the airline recover from the impacts of Covid-19.
According to a report from The Nation, Suvadhana Sibunruang, vice president of Thai Airways' aviation business unit, said the airline was cooperating with the Thai government to facilitate more fresh produce exports to generate revenue for growers, exporters and itself.
'We have asked the commerce ministry to give us information on the trend of fruit and vegetable exports because the airline is currently operating semi-commercial flights and expect the cargo business to generate revenue next year," Sibunruang said.
Somdet Susomboon, director general of Thailand's Department of International Trade Promotion, said over the next 12 months Thai Airways will help fruits and vegetables reach key markets including Hong Kong, South Korea, Japan and several European countries.
"The airline will benefit from this business into the new year because the export sector is recovering gradually," Susomboon added.