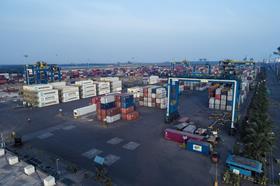 In a bid to further intergrate its logistics services, Adani Group is set to acquire stakes in Krishnapatnam Port and Snowman Logistics, a cold chain logistics company.
Adani Ports and Special Economic Zone (APSEZ), the logistics arm of Adani Group, announced it will acquire a 75 per cent stake Krishnapatnam Port Company, the operators of the second-largest private sector port in India.
A week earlier Adani Logistics (AL), a wholly-owned subsidiary of APSEZ, signed an agreement to acquire a 40.25 per cent stake in Snowman Logistics one of India's leading cold chain service providers.
Both acquisitions are expected to be closed by the end of May 2020.
After the Snowman Logistics announcement, Karan Adani, chief executive of APSEZ, said the company's vision was to become a leader in providing integrated logistics services in India, moving from port gate to customer gate.
The investment in Snowman Logistics will give AL access to 31 temperature-controlled warehouses at 15 strategic locations, a warehousing capacity of 1m pallets and 293 refrigerated vehicles and will give AL the platform to upgrade its cold chain capacity.
"Cold chain is a key product in our customer gate strategy given India's consumer-driven demand. We will double the capacity in the next five years," Adani said.
Krishnapatnam Port, which handled 54m tonnes of cargo in the 2019 financial year (April 2018 – March 2019), represents another significant addition for APSEZ.
'Krishnapatnam Port is a crown jewel to join APSEZ's string of pearls, our network of ten economic gateways to India," Adani said.
"This acquisition would accelerate our stride towards financial year 2025 vision of handling 400m tonnes of cargo.
"Given the best-in-class infrastructure and the distinct hinterland catered by Krishnapatnam Port, this acquisition will not just increase our market share to 27 per cent but also add remarkable value to our pan-India footprint," he added.
"With the experience of successfully turning around acquisitions of Dhamra and Kattupalli ports, we are confident of harnessing the potential of Krishnapatnam Port and improve returns to stakeholders."