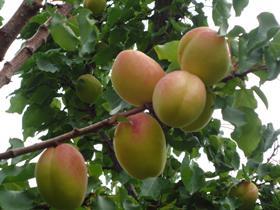 A prolonged winter has delayed the start to Afghanistan's apricot harvest, with the dry, cooler start to the season allowing exporters extra time to complete the cherry harvest.
In Afghanistan there are pockets of production scattered throughout the country, with a wide range of local varieties often cultivated within clearly defined regional areas.
Apricot is the fourth most important perennial crop after grapes, pistachio and almonds in Afghanistan, and is a priority crop in the master plan of the Ministry of Agriculture, Irrigation, and Livestock (MAIL).
One of the most sought-after varieties is the Amiri apricot. Ranked highly among consumers due to its distinctive sweetness, it mainly grows in the districts of Parwan and Wardak provinces of Afghanistan.
Afghan apricots currently have a short window of supply; however, Afghan company Boustan-e-Sabz is working closely with its contracted farmers to extend the season as long as possible.
Contracted farmers send their crops to Boustan-e-Sabz facilities, where the fruit is processed, graded, and packed by hand, at a rate of 10 tonnes every 24 hours.
Boustan-e-Sabz currently exports Amiri apricot, pomegranate, apple, and Arkani melon to international markets. Growers are expecting this year's apricot harvest to yield high volumes and good quality due to the dry conditions, with the season expected to run mid-July to mid-September.
"Our contracted farmers are happy with the status of their apricot orchards, and they are forecasting that this year's apricot will be available in high quality and quantity," said Boustan-e-Sabz export director, Lemar Quraishi.
"The apricot export demand varies; we grade to customer requirements, and we sort the fruit based on the demand of buyers for sizes, level of ripeness, and packages," he added.
With a long shelf life that can keep its firmness and flavor for up to a week without refrigeration, the Amiri apricot has the ability to handle shipping and transportation, making the variety a top export crop.
In Afghanistan, apricot exports held steady in 2019 but decreased in 2020 due to the closure of international borders and airfreight being grounded.
Quraishi said exporters were surprised by the pandemic restrictions and didn't risk investing in fresh fruit exports last year due to the uncertainty. This is expected to change this year.
"The line of fresh fruit export is slowly being repaired, and our office in Dubai and India is ready to distribute the Amiri apricot for the season," added Quraishi.