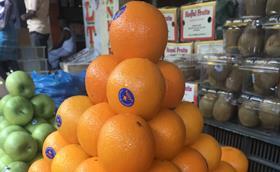 Australian industry groups have thrown their support behind the Australia-India Economic Cooperation and Trade Agreement.
Signed over the weekend (2 April), the agreement is being viewed as an interim outcome in free trade agreement negotiations between the two nations.
It promises the elimination of tariffs on several Australian horticulture products, including blueberries, avocados, onions, cherries, asparagus, lettuce and celery. These tariff reductions will be staged over a seven-year period.
In a major boost for Australia's citrus industry, the tariff rate on orange and mandarin exports to India will be slashed by 50 per cent. The reduced tariff will stand at 15 per cent for both citrus products.
Peak industry body, Citrus Australia, was hopeful the implementation date of the agreement could be as soon as July, which would benefit the 2022 Australian citrus season.
Australian growers exported more than A$18m (US$13.5m) of oranges and mandarins to India between 2019 and 2021.
Citrus Australia has renewed efforts to increase exports to the sub-continent, including India.
"Reducing tariffs from 30 per cent to 15 per cent will prove beneficial for both Australian exporters and Indian importers," said Citrus Australia chief executive Nathan Hancock.
"We look forward to developing long-term relations with business leaders and government in India.
"It's a country with such a rich culture and a vibrancy and we see great opportunities for mutual benefit for traders in both countries and the end consumer."
Michael Rogers, chief executive of the Australian Fresh Produce Alliance, said the agreement would create new export opportunities for the wider horticulture industry.
"The future success of Australia's horticulture sector is underpinned by creating and capitalising on export opportunities," Rogers explained. "Steps like the signing of an interim agreement between Australia and India are vital in setting up Australia's horticulture sector for international success."
Rogers said improved technical market access protocols were also required to grow Australian fresh produce exports.
"Trade agreements with other countries are a critical first step and must be followed up with the work developing technical pathways for trade that are negotiated separately," he explained.
"We welcome this agreement with India, but it is vital that we follow up with expanded technical market access. Without expanded technical market access, both in India and other markets, the industry's export growth is very constrained."
Read more about Citrus Australia's plans for the Indian market in the April edition of Asiafruit Magazine, and hear from the industry body's market development manager for South Asia, Claire Fitchett, at Fresh Produce India.