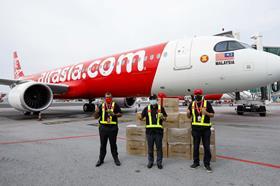 Airasia Farm has delivered the Harumanis mangoes grown in the most northernmost parts of Malaysia to the country's most eastern state, Sabah, for the first time.
The first shipment of mangoes was transported by Airasia's B2B match making platform for agro-producers and food and beverage outlets on 30 April and distributed to key retailers in Kota Kinabalu.
The development is part of the 'Harumanis Kembali Lagi' campaign led by Malyaisa's Ministry of Agriculture and Food Industries (MAFI), in collaboration with the Department of Agriculture (DOA), as well as the Federal Agricultural Marketing Authority (FAMA) of Perlis to further promote Harumanis mangoes.
Ronald Kiandee, minister of agriculture and food industries, said MAFI was pleased to join hands with the private sector parters such as Airasia Farm to promote the 'Harumanis Kembali Lagi' campaign.
"This collaboration will not only expand the distribution of Harumanis across Malaysia, but also brings the exclusive mangoes to Sabah officially for the first time, in line with the ministry's emphasis on high-valued agriculture that can create economic opportunities for the people," said Kiandee.
"This year MAFI is expecting the harvest to reach 3,336 tonnes, which is valued at RM66.7m (US$16.1m) in Perlis.
"We anticipate about 50 per cent will be sold online through the e-commerce platforms such as Airasia Food, Airasia Fresh and Agrobazaar online."
Lalitha Sivanaser, general manager of Airasia Farm, the shipment was made possible by Airasia's ecosystem of technology and e-commerce platforms.
"The synergy with the ministry enables the Harumanis mangoes to be delivered in Sabah in less than 72 hours upon harvest to ensure that the fruit is truly fresh from the farm," said Sivanaser.
"We believe technology and digitalisation will not only add value to the agriculture sector but also improve the country's entire food industry supply chain from production, distribution to consumption.
"Our long-term goal is to bring better value to benefit thousands of Harumanis farmers across Perlis so they can generate a larger income for their harvest online and hopefully across the region in the future."