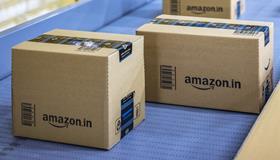 Amazon India has expanded Amazon Fresh launching the online grocery service in Chandigarh.
According to a report from the Times of India, consumers in Chandigarh will now have access to a wide selection of over 3,000 grocery products including fresh produce, all via the Amazon Fresh app.
Sameer Khetarpal, director, grocery, food and health of Amazon India said, the service would connect consumers with local growers.
"Amazon Fresh is a one-stop online destination that offers customers a vast selection, unmatched value, and convenience. We are committed to serving our customers and are driven by our commitment to be an 'everything' and 'everyday' store," said Khetarpal.
"Customers in Chandigarh will now have access to purchase high-quality locally grown fruits and vegetables delivered safely at their doorstep. This is in line with our mission to enable local farmers across the region to leverage the marketplace and become a part of the digital economy.'