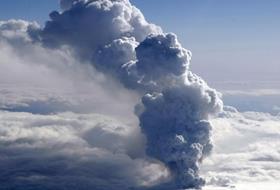 Asia-to-US airfreight capacity is tight after aseries of volcanic eruptions in Alaska triggered an ash cloud that caused a number offlight cancellations, reports The Loadstar.
Airfreight space to Europe is also restricted after bad weather in Shanghai and Hong Kong impacted flights, it said.
A series of volcanic eruptions on Alaska's Bogoslof Island triggered an ash cloud which caused several airlines to adjust their transpacific operations, creating "very tight" space, one forwarder told the publication.
"Airlines have had to decrease capacity since last week," a forwarder is quoted as saying. "There has been a big challenge for airlines from Asia to the US."
Another told The Loadstar that China Cargo Airlines was forced to adjust its operations.
Others were unaffected, the report said. Mark Sutch, general manager cargo for Cathay Pacific said: "We were lucky with timing, and got away with no re-routes or cancellations."
Forwarders have also told The Loadstar that poor weather in China had affected EU flights.
"Airlines are increasing rates to the EU, and bad weather meant about 20 flights in and out of Hong Kong have been cancelled. So space to the EU is really affected," said one.
He added that Cargolux out of Zhengzhou was seeing some congestion, and that space for larger shipments across many airlines is booked until Friday at the earliest.
The Alaskan volcano is on part of the Aleutian island chain, under the flight path of many aircraft between Asia and North America. It erupted in May, and again on 25 June, sending an ash and steam plume up to about 36,000ft, before moving eastwards. The volcano observatory said that the "volcano remains at a heightened state of unrest and in an unpredictable condition. Additional explosions producing high-altitude volcanic clouds could occur at any time".