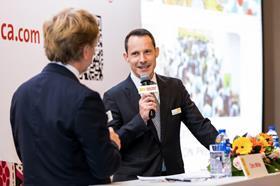 Asia Fruit Logistica is switching to a digital event this year. This is all because of Covid-19?

Will Wollbold: Covid-19 has touched every single thing in our lives, and now it's affected Asia Fruit Logistica too. I'm afraid this means that we won't be able to meet in Singapore this November.

I share your disappointment and that of all our exhibitors and visitors. You know very well that we've all been working so hard to make Asia Fruit Logistica happen this year. And even though we were able to get clarity on so many Covid-19 related issues, the circumstances still aren't right to meet in Singapore in November. All over the world borders are still closed, and business travel is still almost impossible.

I'd like to thank every single exhibitor for your support. Thank you for your loyalty and for your patience.

I know how important Asia Fruit Logistica is for both exhibitors and visitors. It's the main meeting point in the year for buyers in Asia or for global supplier to Asia. So that's why we're not going to let Covid-19 defeat us. We all know that for every problem in business there's a solution out there somewhere.

And the solution for this 2020 edition of Asia Fruit Logistica is to go digital.

WW: I know it won't come as a surprise to any of you that Asia Fruit Logistica is going digital. But what will surprise you is that we're going digital with a difference.

We're working hard with a software company based in Asia that's developed technology precisely to resolve the problems created by this global pandemic. Together we're building a new online home for the thousands of exhibitors and visitors who come to Asia Fruit Logistica every year.

And you're calling it Asia Fruit Logistica ON?

WW: Asia Fruit Logistica ON is the name of our new digital format. It's an online platform where you get to connect with many other buyers and sellers in Asia. It's where Asia's fresh produce business meets.

Asia Fruit Logistica ON is your online space to make new connections, it's your place online to meet, to organise formal business meetings, it's the place online to discuss your deals, and to plan the season ahead.

In fact, It's rather like Asia Fruit Logistica is every year, only this time it's online.

So an online space where buyers and sellers together can meet and do business. But it's also about information too, isn't it?

WW: Asia Fruit Logistica ON must be about the best information and insight too. It's there to help you all make the right calls. So just like at Asia Fruit Logistica we're working with our partners at Fruitnet Media International to put on a full programme of online conferences, seminars, and workshops.

And this includes Asiafruit Congress ON, Asiafruit Magazine's new digital format for this year only of Asia's longest running and most successful conference event for fresh produce decision makers in Asia.

So, you see, Asia Fruit Logistica really is on this November! And very soon we'll be telling you even more about Asia Fruit Logistica ON. So watch this space.