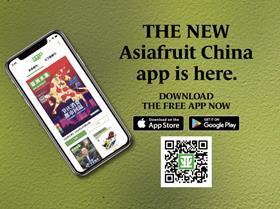 We are excited to officially launch Asiafruit China's new app, bringing the latest editions of the Chinese-language magazine to your mobile phone and tablet.
The app can be downloaded onto your smartphone or tablet from the App Store or Google Play or can be downloaded directly. Readers can also access the editions on their laptop or computer via the web.
To celebrate the launch of the app, the current edition of Asiafruit China plus six back editions are FREE to download and view for the next two weeks.
Asiafruit China caters to Chinese-speaking industry professionals with the latest news and exclusive reports from the local and international fresh fruit and vegetable business.
This new, user-friendly digital edition has been created by the same people behind apps developed for The Economist, The Independent and other leading publications.
So download the app now and get access to all the best news, views and analysis from the fresh produce business in China and around the world on one easy-to-use platform.