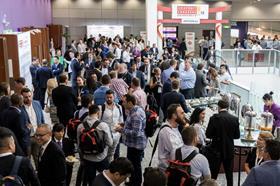 Asiafruit Congress is back as an in-person event this November alongside Asia Fruit Logistica over three days in Bangkok.
Asia Fruit Logistica is moving from its traditional location in Hong Kong for its 2022 edition and takes place at the Queen Sirikit National Convention Center (QSNCC) in Bangkok on 2-4 November 2022.
This world-class exhibition centre in Bangkok hosted the first-ever edition of Asia Fruit Logistica in 2007, when the trade fair launched alongside Asiafruit Congress. It makes QSNCC the ideal venue for Asia Fruit Logistica, which is celebrating its 15th anniversary in 2022.
Asiafruit Congress kicks off with a special reunion get-together in Bangkok on the evening on 1 November just before Asia Fruit Logistica.
"Asiafruit Congress has always been about networking, and we've missed that for two years because of the pandemic," says Chris White, managing director of Fruitnet, the publisher of Asiafruit Magazine and organiser of Asiafruit Congress. "So we're really looking forward to bringing everyone together at a big reunion party for everyone who has attended Asiafruit Congress over so many years."
The information sessions at Asiafruit Congress take place this year at Asiafruit Business Forum. It is held on the show floor at Asia Fruit Logistica from 2-4 November. As always, top-quality expert speakers and panellists analyse what's happening in Asia's fast-moving fresh fruit and vegetable business. Senior executives share strategic insights and explain the latest market trends and opportunities.
Asiafruit Business Forum
Asiafruit Business Forum includes a wide-ranging programme of daily workshops in a new format on the show floor at Asia Fruit Logistica.
Curated by Asiafruit Magazine, Asia Fruit Logistica's official knowledge partner, Asiafruit Business Forum covers a range of key areas for the fresh produce value chain. Marketing, trade, technology, and logistics all come into focus, with business leaders sharing practical insights and innovative solutions.
"Visitors and exhibitors come to Asia Fruit Logistica to get a complete overview of what's happening in Asia's fresh produce markets," says John Hey, editor of Asiafruit Magazine and curator of the content programme of Asiafruit Congress and Asiafruit Business Forum "That's going to be much easier this year because Asiafruit Congress and Asiafruit Business Forum are both held on the show floor."
The Asia Fruit Awards, the premier annual awards celebrating excellence in Asia's fresh produce business, are presented at Asiafruit Business Forum this year too. The Asia Fruit Awards are presented by Asia Fruit Logistica and Asiafruit Magazine in four categories: Marketing Campaign of the Year; Importer of the Year; Produce Retailer of the Year; and the Impact Award.
Onsite and online
Asiafruit Congress is also organising an online preview edition on 7 September ahead of Asia Fruit Logistica and Asiafruit Congress in Bangkok in November. The online event is free to attend and focuses on the big market trends and opportunities in Asia ahead of the Bangkok show.
For more information on Asiafruit Congress, contact:
Programme and speaker opportunities:
John Hey, Editor, Asiafruit Magazine 

Email: john@fruitnet.com
Sponsorship enquiries:
Kate Riches, Head of Asia-Pacific Business Development, Asiafruit Magazine 

Email: kate@fruitnet.com