Apple marketing in South-East Asia, China market update and tropical fruit spotlight among key topics discussed during online briefing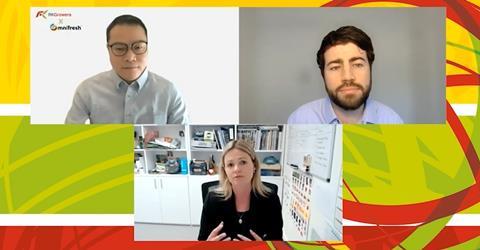 The countdown to Asia Fruit Logistica and Asiafruit Congress commenced on 7 September with Asiafruit Congress Online Preview.
The online event provided a primer to the physical events set to be held in Bangkok on 2-4 November.
Viewers joined from all over the world to take in valuable insights on the latest developments in Asia's fresh produce trade.
Apple marketing in South-East Asia
Bostock New Zealand's Catherine Wedd and Kevin Au Yeung, Asia market manager of RK Growers and Italian apple marketing alliance, Omnifresh, joined the event to discuss what makes South-East Asia's apple market so exciting and how to connect with the region's eager consumers.
Wedd said South-East Asia's demographics and educated consumers made it a particularly attractive market for apple exporters. She also noted a growing interest in organic apples.
"South-East Asia provides some real opportunity. There is a growing segment of middle to high income earning consumers there who are very educated in terms of where their food comes from, and they're reaching out for imported fruit," said Wedd.
"We have some IP varieties coming that we've developed specifically for the South-East Asian market, and they're generally very red, sweet, crunchy, delicious apples."
Au Yeung said the young population was health-conscious and eager to try new things, so he was confident that there was plenty of room for the new varieties entering the market.
"Because we (European growers) are still relatively new to the market, the important thing is positioning and targeting a niche market. Each variety will have different supporters or fans. I don't think it will overcrowd the market, it will make the market more exciting," Au Yeung said.
When it comes to catering to each of the different countries within South-East Asia, Wedd said having an in-market presence had proved invaluable to effectively engage with consumers.
"We've set up offices just recently in Vietnam and Indonesia, and we have representation in China, Japan and Korea, because we see that that in-market representation on the ground is fundamental to growth in those markets," she said.
One of Bostock's top apple varieties in Asia is Dazzle. Wedd said successfully introducing the fruit and developing the brand required visiting South-East Asian countries and seeing what resonated with consumers, what they would like to see in terms of a brand and catering to that.
"The next stage is rolling it out. With Dazzle that's putting it across packaging and getting it into retail, so people can see it and then with the younger, more educated consumer starting to resonate through digital platforms and social media," explained Wedd.
Au Yeung said one of the keys to launching a new apple was consistent quality and taste that meets consumers' expectations.
The Covid-19 pandemic has changed the way apple marketers connect with consumers, and both speakers agreed online marketing had become more important than ever.
"In the past, we found the most effective way of introducing new varieties into South-East Asia or new markets is simply to do tastings because that's the most direct way of reaching the consumer," said Au Yeung.
"Now we do more content creation and tell people what exactly our apples represent and how we produce them. For online platforms, word of mouth is the most important thing."
Wedd said social media is the most important channel and it was key to choose the right platform for the right market.
"We've found that every market is quite different. In Indonesia, we push our Instagram a lot more and then in Vietnam, we're very much Facebook-focused. In China, it's WeChat."
China market update
Timothy Li, the current head of Vanguard International's China, provided viewers with an overview of how the China market was tracking following major Covid lockdowns in Shanghai and other key cities earlier in the year.
Li said at the height of the lockdowns, logistics disruption delayed fresh produce shipments and caused costs to rise. While noting that the situation had improved with the relaxation of restrictions, he said importers were exercising a cautious approach.
"The major challenges were cargo circulation and customs clearance, which had a major impact on the quality of fresh produce," he explained.
Li said the younger generation was driving some of China's key consumer trends. He said they value convenience, freshness, seasonal availability and value for money, priorities that are all reflected in the rise of group buying and online shopping.
China's domestic production is also on the rise, according to Li, but it still holds immense untapped potential. He highlighted opportunities to evolve production beyond smallholder farms, improve quality and quality control, and attract international investment.
Tropical fruit
Durian took centre stage as the Asiafruit Congress Online Preview turned its attention to Asia's tropical fruit trade.
Fresh Intelligence Consulting Wayne Prowse provided a statistical overview of the category in Asia in 2021.
The overall tropical fruit trade in Asia was down 7 per cent to 8.6m tonnes in 2021, he noted, with most of the trade flowing from South-East Asia to northern Asia.
Bananas still dominated the category, accounting for 54 per cent of the trade, despite a 20 per cent year-on-year drop in 2021. Durians ranked second, accounting for 13 per cent of Asia's tropical fruit trade, after growing by some 25 per cent in 2021.
John Cao, project manager for Joy Wing Mau's leading durian brand Joyvio Durian, gave an insight into China's durian market, which has exploded in recent years.
"Mid- to small-size packs are very popular, because they are cheaper. They have been particularly successful on e-commerce platforms in recent years," Cao said. "So as long as quality is assured, and the logistics are smooth, it will continue to grow."
Joyvio Durian has become a consumer favourite in China, according to Cao, who outlined the keys to its success.
"For us at JWM, product quality comes first and foremost in making a good durian brand. For our Joyvio Durian brand, we started nurturing local talent in key Thai durian regions from 2003, and built long-term relationships with the growers there," Cao explained.
"We maintain a consistent brand image across all of our channels to gradually strengthen our brand power and nurture brand loyalty."
If you registered for Asiafruit Congress Online Preview, you can watch back sessions on demand here.