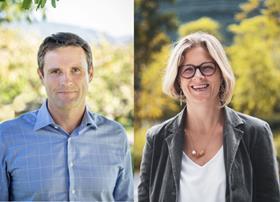 Asiafruit Congress will feature over 60 speakers and more than 16 hours of content when it streams to the global fresh fruit and vegetable business this week.
Asia's premier fresh produce conference is going online on 28-29 September to showcase the huge market opportunity of Asia to the world, and to start the countdown for Asia Fruit Logistica's return to Hong Kong on 7-9 September 2022.
Hosted live from Fruitnet's offices in Melbourne and London over 48 hours, Asiafruit Congress features both live and on-demand content to enable every fresh produce business to take part easily and in their own time zone.
A broadcast from Melbourne kicks off at 11am AEST each day, enabling attendees from across Asia-Pacific and the Americas to join during the Asia working day.
A daily broadcast from London follows from 1pm BST, catering to live participants joining from Europe, the Middle East and Africa (EMEA), as well as the Americas.
Asiafruit Congress is free to attend this year, and all the session recordings are also available to view on-demand for registered attendees.
Expert speakers representing multiple categories and markets will highlight the exciting opportunities across Asia for the global fresh produce business.
Asiafruit Business Forum also features a range of specialist talks providing practical takeaways on the latest advances in technology, retail and marketing.
Asiafruit Congress sees the announcement of the Asia Fruit Awards, the prestigious pan-Asia awards for Asia's fresh produce business presented by Asia Fruit Logistica and its partners at Asiafruit Magazine.
Rising to the challenge: Covid and sustainability
Each day of Asiafruit Congress opens with two headline sessions, streamed from both Melbourne and London.
In the opening session – 'The challenge to change: Covid-19 and the future of Asia's fresh produce business' – an expert panel featuring Dan Mathieson, CEO of Zespri International, Jan Doldersum, manager of chain & retail at Rijk Zwaan, and Frutacloud founder George Liu talk to Fruitnet's Chris White about the impact of the pandemic and the trends that look set to last.
Sustainability also comes into focus on Day One with a session looking how Dole Sunshine Company, a market leader in Asia's fresh produce business, is taking a stand on the issue. President of Dole Asia Sunshine's Fresh Produce Group, Christian Wiegele, and head of Dole Ventures, Barbara Guerpillon, explain how the group is working to meet the sustainability commitments laid out under the Dole Promise.
Retail shifts, consumption opportunities
Day Two (29 September) kicks off with a headline session on Asia's shifting food retail landscape. Winstone Chee, director of Altitude Fresh, shares his first-hand insight on the key changes in China post-Covid. Missfresh, a leader in China's neighbourhood retail industry, recently became the country's first fresh food retailer to list on Nasdaq. The group's co-CFO Chen Xi is on-hand to explain how the company is looking to revolutionise the fresh food retail scene in China with its digital solutions.
The retail session focus then shifts to South-East Asia. Andy Chang, director of fresh and frozen food for leading Singaporean supermarket chain NTUC FairPrice, outlines the key grocery and retail trends since the onset of the pandemic and explains how the major retailer is responding. Grab's regional head of commercial Saad Ahmed also explains how the South-East Asian 'superapp' is digitalising grocery delivery.
'The consumption opportunity' is the theme of Day Two's second keynote session. While fresh fruit consumption continues to grow at impressive rates across Asia, the session looks at how marketers can do more to seize the opportunities.
Case studies provide inspiration on how to capitalise on new eating occasions and attract consumers to new varieties and products.
Nina Ma of Syngenta China talks about how the group has partnered with Dole and Disney in China to promote its China-grown Yoom and Nebula premium tomatoes, and its mission to create new eating occasions for fresh tomatoes in China. Vachamon Food's CEO Wipavee Watcharakorn discusses the Thai company's Fruit First campaign. Washington Apple Commission's director of international marketing Rebecca Lyons outlines its work to grow apple consumption in South-East Asia, while PromPeru executive president Amora Carbajal explains how the agency is using culinary inspiration and superfood status to incorporate avocados into diets in Asia.
Asia-Pacific/Americas track
After two global headline sessions each day, Asiafruit Congress delivers region-oriented content for its audiences in Asia-Pacific/Americas and EMEA/Americas respectively.
On Day One, the Asia-Pacific track features a spotlight on Vietnam as a fast-growing market for premium produce with first-hand insights from Victor Anderson of T&G Global, Fresh Studio's Trung Le and Vu Phuong Thuy of leading retailer VinCommerce.
A session exploring varietal innovation in the stonefruit category hears from Garth Swinburn, VP of licensing for Sun World International, before Asoex director of marketing Charif Christian Carvajal and Francisco Herrera, export commercial manager of MSC Chile, provide their perspectives on the rapid evolution of Chilean stonefruit exports to Asia.
Digital channels have become vitally important to connecting with consumers since the onset of Covid-19. But how do fresh produce marketers make their brand stand out in a crowded digital space and use these channels effectively? Ng Kok Hwee, Zespri's marketing director for Greater China, and Rockit Global's general manager of global marketing Julian Smith, share some of their innovative work in the digital space.
Day Two's Asia-Pacific content includes a focus on Asia's tropical fruit trade. Vincent Chan of Sovin International discusses China's durian craze while executive managing director of Soo Il Commerce Joon Choi explains Korea's growing demand for mangoes and dragon fruit.
A session spotlighting growth opportunities and emerging suppliers on Asia's citrus market also hears from BGP International's executive director Neil Barker, Costa Group's GM of citrus and grape categories, Elliot Jones, and Hannes de Waal, MD of South African heavyweight, Sundays River Citrus Company (SRCC).
EMEA/Americas track
Bananas are big business in Asia, and on Day One of the EMEA/Americas broadcast from London, industry heavyweights discuss the latest shifts in sourcing and consumption. Mohammed Abbas, Del Monte Fresh Produce's senior VP of Asia-Pacific, the Middle East, and North Africa, outlines the broad trends across the region. Goodfarmer's Owen Zhang and INI Farms' managing director Pankaj Khandelwal then analyse the dynamics of the banana markets in China and India respectively.
In other sessions, leading Italian apple marketers discuss some of the latest varieties and brand-marketing campaigns for Asia, while Freshfel's Philippe Binard and Andriy Yarmak of the UN FAO talk about the keys to expanding European exports to the region.
Growing high-value crops closer to consumers in Asia represents both major opportunities and challenges for global breeders and marketers. On Day Two of the EMEA/Americas broadcast, Jupiter Marketing CEO Mark Tweddle and Peter McPherson, head of berry international for Costa Group, discuss some of the keys to success.
Shifting the focus to global sourcing, Benedikt Mangold and Katelyn Jones, CEO and chief business development of BayWa Global Produce respectively, then explain how the leading agribusiness is drawing value from having a broad range of products and procurement origins to satisfy retail and wholesale demand.
Covered cropping systems are also gaining ground in Asia. Richard Vollebregt, president of Cravo, and Kees Rijnhout of Jaguar The Fresh Company, outline some ground-breaking developments.
Asiafruit Congress is hosted on Fruitnet's easy-to-use online platform, which has been used by many thousands of attendees for its sector-specific global events for berries, tomatoes and grapes. The platform offers first-rate networking, and delegates can interact easily with every speaker and every attendee.
Register free for Asiafruit Congress here and visit the website for programme and speaker information.
Watch a video highlights preview here.