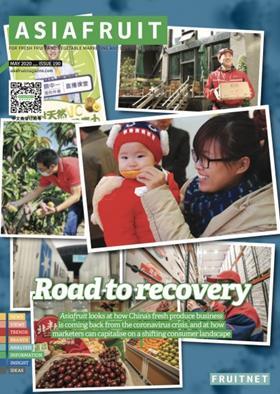 As many countries around the world continue to grapple with the coronavirus (Covid-19) pandemic, China appears to be emerging from the worst of the crisis, with the economy restarting and businesses reopening.

Global fresh produce suppliers are watching China's recovery closely, knowing it will be crucial to the success of their marketing season.

Asiafruit's May edition takes an in-depth look at the impact of Covid-19 on China's fresh produce business with first-hand insight from leading players across retail, wholesale, import, export and production.

"China is on the road to recovery, but it's clear that things have changed. Shifts in consumer habits and psychology post-lockdown should be watched carefully," says Asiafruit editor John Hey. "China's 'new normal' calls for fresh produce suppliers to review their marketing strategies."

Two prominent brand agencies – China Skinny and The Solution – share their expert advice on fresh produce marketing in a post-pandemic consumer landscape in this edition.

But Asiafruit's coronavirus coverage does not stop there. Korea was one of the first countries outside of China to face coronavirus, and the May edition looks at how the North Asian nation's fresh produce business has been handling the situation. Also featured are perspectives from key global suppliers to Asia, including the US, South Africa, Chile, Australia and New Zealand.

Covid-19 was the catalyst for Fruitnet's move to take Fresh Produce India online this year. Asiafruit's May issue also includes a full report on Fresh Produce India Live, the world's first mobile-ready fresh produce conference, which livestreamed to more than 650 registered listeners from 40 different countries on 23 April.

As well as these special reports, this edition includes seasonal updates on California cherries, South African citrus and New Zealand kiwifruit, plus regular interviews with key industry personalities. Capespan's Adele Ackermann discusses her 'get on with it attitude' in this month's 'Women in Produce' interview, while Michael Franks, chief executive of Seeka, explains why he's so proud of the Australasian group's people in 'Talking Heads'.
Download the app for free trial
So get your copy of Asiafruit now. You can subscribe via the online shop or by contacting subscriptions@fruitnet.com. Asiafruit is also now available to read on your phone or tablet via our new app. Download the app onto your smartphone or tablet from the App Store or Google Play. We are offering a free two-week trial to the app, with users given 14 days' access to all app content.
The latest edition of Asiafruit China, Asiafruit's Chinese-language magazine, also includes a special report on the coronavirus response from key global fresh produce suppliers, plus reaction from within China. Contact subscriptions@fruitnet.com to get your copy. Asiafruit subscribers can get the Digital Edition of Asiafruit China on their exisiting subsription. Go to asiafruitchina.net for more info.