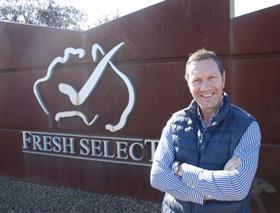 One of Australia's leading vegetable growers has transformed the way it picks and packs its produce to ensure the country's consumers continue to have access to high quality products during the coronavirus (Covid-19) pandemic.
Fresh Select, which grows lettuce and brassica vegetables at Werribee South on the western fringes of Melbourne, has implemented a range of new measures to ensure it continues to meet food safety standards, while also protecting the health and welfare of its staff.
"As an industry, our staff are critically important to ensure continued supply of fresh produce," said John Said, chief executive of Fresh Select.
"We've equipped some of our staff with the tools to work from home and for those harvesting and packing with protective clothing, such as face masks and disposable coveralls, whilst maintaining the social distancing of 1.5m. We've also seen changes to the way our teams operate, with designated break areas and split shifts."
From a consumer standpoint, Said said fresh produce is more important now that ever.
"We know the proven benefits of eating fruits and vegetables can provide and we want to reinforce the message that the virus is not transmittable by food," he explained.
Produce Marketing Association Australia-New Zealand's (PMA A-NZ) head of food safety, Deon Mahoney, said Australian growers are doing everything in their power to ensure business continuity and provide consumers with peace of mind that produce is safe to consume.
"Food authorities around the world have confirmed that food is not a vehicle for the transmission of the virus," Mahoney explained. "Combined with the high-level of food safety practices on Australian farms, we're incredibly fortunate to have access to such a diverse range of high quality fruits and vegetables."
PMA A-NZ is encouraging consumers and industry stakeholders to share what they love most about Australian farmers and produce by uploading an image to social media with the hashtag #JoyofFresh.