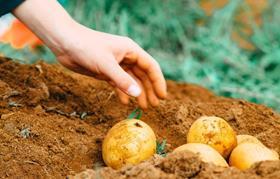 The latest edition of Hort Innovation's Horticulture Statistics Handbook has revealed Australia's Horticulture production and value has remained steady in the 12 months to 30 June 2021 (2020/21).
The industry body's annual publication, developed by Freshlogic, showed Australian horticulture production topped 6.6m tonnes in 2020/21, a 1 per cent increase year-on-year. The value of this production reached A$15.2bn (US$10.8m), which was less than a 1 per cent increase on 2019/20.
Hort Innovation head of data and insights Adam Briggs, said the data reflected the obvious challenges growers faced given global circumstances in the period captured, but there were also many positives including a foodservice recovery.
"Something encouraging is that foodservice is returning from the lows we saw in 2019/20," Briggs said.
"For example, fruit foodservice volume and value has rebounded, and the value is now exceeding pre-Covid levels."
Potatoes were one of the top performing categories with increasing demand from consumers and foodservice driving a rise in production.
"The humble spud has become a bit of a vegetable superstar," Briggs said. "From the year ending June 2020 to the year ending June 2021, we've seen the value of potatoes climb by A$90.9m, and the tonnes produced rise by 5 per cent."
The Handbook also showed the value of fruit was stronger than the previous year after a rise in olive production (A$99m), avocados (A$56m), cherries (A$47m) and apples (A$41m).
Table grapes remained the most valuable fruit (A$631.8m) despite export volumes dropping 21 per cent year-on-year to 120,725 tonnes. Meanwhile, apples took number two spot in value (A$619.9m) and overtook bananas (A$596.8m).
Australia's berry offering continued to grow, over an eight-year period, the volume of raspberries and blackberries has increased more than four-fold, while blueberry volumes have almost tripled.
Oranges saw an eighth year of consecutive growth in production value to reach a new high of A$437.6m, despite a 7 per cent fall in production volume. Oranges have experienced an average 9.8 per cent compound annual growth rate in value since 2012/13.
Exports were significantly affected by disruption caused by the Covid-19 pandemic with export volume declining by 8 per cent year on year to 761,538 tonnes in 20/21, value declined 14 per cent to A$2.3bn.
Asia remained Australia's most important export market accounting for 505,971 tonnes of exports worth A$1.8bn in 20/21.