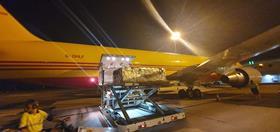 Pak Fresh Handling has exported its first consignment of Australian grown mangoes of the season, with 4 tonnes of the Jenko's branded fruit heading to Singapore through Darwin Airport's cold storage hub.
It was a quick turnaround for the fruit, which arrived at the facility in the evening of 19 September. It was screened and held overnight in cold storage, before being loaded on a flight early the next morning.
General manager of Pak Fresh Handling, Robert Hall, said growers wouldn't get better turnaround anywhere else in the country, while still maintaining the quality of the supply chain.
'Mangoes are received into a temp-controlled environment, screened and packed before being loaded through our airside access directly onto a plane,' he told local press.
Hall highlighted there were five flights departing Darwin and flying to Singapore every week, each carrying more than 130 tonnes of fresh produce. There's an additional three flights heading to Hong Kong each week.
"We have the vapour heat treatment plant accredited and commissioned to treat anything from mango to meat," added Hall.
"This is an important protocol requirement of countries such as Korea, Japan and China who pay a premium price for our fruit."
Nicole Manison, deputy chief minister of the Northern Territory, said it was brilliant to see 4 tonnes of Territory fresh mangoes bound for Singapore.
"We know the Territory produces the world's best mangoes, so it's only fair we share them with the rest of the world," she posted on LinkedIn.