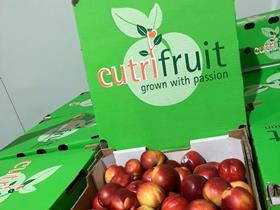 Leading Australian stonefruit producer, LPG Cutri Fruit Global, has sent eight tonnes of premium peaches and nectarines on a flight from Melbourne to Kuala Lumpur, utilising the help from the Australian Government's International Freight Assistance Mechanism (IFAM).
LPG Cutri Fruit Global executive general manager, Frank Frappa, said IFAM had allowed the business to remain connected with its international markets despite challenges caused by Covid-induced border restrictions.
"The team at IFAM have been fantastic – they listen, they understand and have done a great job in helping us navigate our way through the challenges that Covid-10 has caused," said Frappa.
"Without the support it would have really impacted our business and the wider stone fruit industry. The programme has been really well put together."
Frappa said premium Australian stonefruit was still held in high regard overseas, with the business also trialling a series of innovative methods to ensure their product continues to get to market.
"Traditionally we export about 60 per cent of our product overseas and 40 per cent domestically but since the pandemic hit, those figures have switched around," he said.
"We're continuing to try different packaging formats and different ways of trying to get some success in that export sector.
"We've done trials by sending fruit as far as Canada and the Middle East via sea freight to try and find ways to keep getting our fruit overseas because we know IFAM is not going to be around forever.
"Being one of Australia's leading stonefruit growers, we remain focused on innovation and producing consistent, reliable varieties that embody great taste, texture, and shelf life," he added.