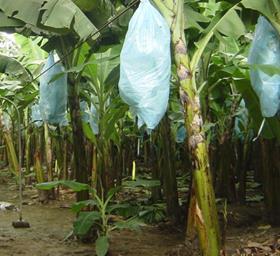 The Philippines' banana exports have grown 18.06 per cent from US$962.58m in 2013 to US$1.136bn in 2014, though disease and natural disaster threaten to hamper the industry's growth.
Cavendish banana exports broke the US$1bn mark in 2014, according to the Philippines Statistics Authority, and remain the country's second most important export commodity after coconut oil, accounting for 14 per cent of the total agricultural exports in terms of revenue, with Japan and China the major export markets.
Despite the growth in export revenue, the spread of Panama disease as well as market access issues, floods and drought, are continuing to present challenges to the country's banana growers.
"The industry was caught in a quagmire as a result of the market crises in China and Iran, intermittent weather conditions, the onslaught of Typhoon Pablo in December 2012, and now the series of flooding that intensified the rush of spread of plant diseases including Fusarium wilt [Panama disease]," executive director of the Pilipino Banana Growers and Exports Association (PBGEA) Stephen Antig told the Business Inquirer. "Right now, we are also experiencing drought brought about by El Niño."
Stricter regulations on chemical use, including South Korea lowering its maximum residue levels (MRL) for certain chemicals on bananas, as well as proposed legislation to regulate venture arrangements between agribusinesses, have also been cited by Antig as challenges for the banana industry in the coming year.
A bill put forward to the Philippines' Congress, HB 5161, proposed to impose stricter regulations on the establishment of agribusiness venture agreements, which Antig said could deter private investments with agrarian reform beneficiaries (ARB).
"The bill virtually shields an ARB as a landowner and entrepreneur from investment and other risks and shifts these burdens to the private investor," Antig said. "With its restrictive regulatory requirements, HB 5161 removes the incentive for private investors to transact with ARBs."