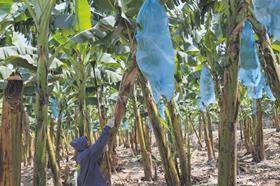 Banana production in the Philippines' Bangsamoro Autonomous Region in Muslim Mindanao is set to be bolstered by a new P950m (US$19.6m) investment.
According to a report from the Philippine News Agency, the Regional Board of Investments of the Bangsamoro Autonomous Region in Muslim Mindanao (RBOI-BARMM) has approved the registration of Al Muzafar Agriventure (AMAVI) - also known as Amavi Sweet Banana - and its accompanying P950m investment.
Ishak Mastura, chairman of RBOI-BARMM said AMAVI plans to establish 1,000ha of cavendish banana plantations.
"The investment is expected to generate an annual production of 2m-3.3m boxes of Cavendish bananas for export to Japan, China, and the Middle East," said Mastura.
Mastura said the investment would help revive the region's banana industry at a time where some of the country's other productions regions are facing challenges.
"While the bulk of the banana industry is located in the Davao region, some of those areas have been hit by the Fusarium wilt or Panama disease that made them unsuitable for banana planting," Mastura said.
AMAVI is 100 per cent Filipino-ownedaccording to Mastura with the majority of its investors coming from the Bangsamoro Autonomous Region in Muslim Mindanao.