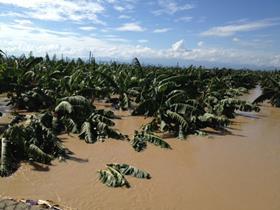 While the funding announced for the Philippine banana industry's Typhoon Bopha recovery efforts over previous weeks is no doubt welcome, the money being made available is unlikely to scratch the amount needed to rebuild the sector.
"The initial government financial support will definitely not get the industry back on track. In fact, it will not even have any impact at all," Pilipino Banana Growers and Exporters Association head Stephen Antig told Asiafruit.
"The industry needs several billion pesos to be able to complete the rehabilitation costs and I am not sure if the government can deliver that kind of money right now."
December estimates put the cost of rebuilding the industry at around P8bn (US$196m), and overall damage to the banana sector from Typhoon Bopha is currently being estimated at P22.23bn (US$544m).
While the Philippine government has made some funding available for growers, the largest amount put on the table so far has been the P2.1bn (US$51.3m) loan package announced by the Land Bank of the Philippines over the weekend in cooperation with Sumifru and other affected growers.
Unless the terms of the loans are lenient, however, Antig said many growers might not be able to take advantage of them.
"Unless the interest rate is going to be low compared to the ordinary commercial loans, then chances are only a few will avail `themselves` of this," he said. "Moreover, quite a number of the industry members are already heavily indebted."
Shortages beginning
Shortages from the Typhoon damage are just now beginning to flow through the supply chain and be felt by exporters.
The industry will focus remaining supplies on key markets like Japan, South Korea and New Zealand, but supplies available for those markets may still be down 10-15 per cent.
"Whatever excess `is left` after that will probably go to China and the Middle East and the other markets," said Antig.
Further challenges ahead
It will take roughly nine months to rebuild production volume – the length of time it takes replanted palms to produce fruit – and Antig predicts a total recovery of production will take until the third quarter of 2013 or the first quarter of 2014.
There is, however, the risk of a glut as large areas of replanted banana palms all come back into production at once. It's a pattern seen elsewhere in banana industries devastated by weather, such as in Australia following Cyclone Yasi in early 2010.
"The risk of a glut is something very real," agrees Antig. "It will probably happen if the replanted plantations come into bearing and the China and Iran markets remain abnormal."