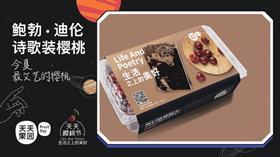 As the Northwest cherry season winds down in China, leading fresh food e-tailer Fruitday has declared its Bob Dylan-themed 'Life and Poetry' campaign a success.
Working with the Chinese publisher of The Lyrics: 1961-2012, which is a comprehensive collection of Dylan's lyrics throughout his career, Fruitday's poetic campaign put the book covers on the packages of Northwest cherries. Each package included a QR code on the side, which, when scanned on a smartphone, would play Dylan's best-known lyrics read aloud by a Fruitday employee.
"Dylan is an iconic artist from the US, who sings about life, freedom and love. Our 'Life and Poetry' campaign this summer aims to encourage people to enjoy poetic lyrics and sweet cherries, as well as many other wonderful things life has to offer," said Fruitday in a statement.
The company hopes that when consumers listen to the voice reading the lyrics, they will see the cherries not just as a commercial product, but as a gift from an old friend.
Combined with Bob Dylan-themed social media events and offline events in bookstores, cafés and restaurants, the 'Life and Poetry' campaign appears to have scored success. According to Fruitday, sales for the first 30 days of Northwest cherry season were up by more than 38 per cent on the same period last year for the e-tailer.