Asoex signs collaboration agreement with Dalian Municipal Bureau of Commerce for Chile-Dalian fruit corridor
Asoex and China's Dalian Municipal Bureau of Commerce have signed a Memorandum of Understanding to promote the construction of the Chile-Dalian fruit import corridor. The project aims to provide faster access for Chilean fruit to Northwest China and Asia.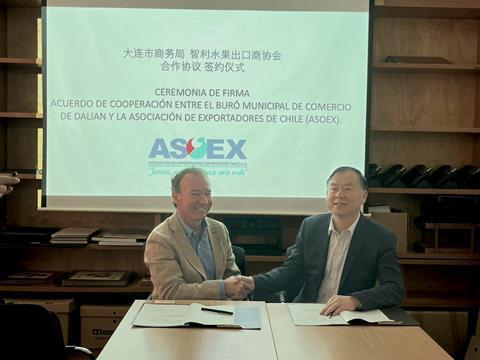 The MoU was signed by Asoex president Iván Marambio and the director of the Dalian Municipal Commerce Bureau, Li Hanguo at Asoex's office.
Also present were the executive director of the Chilean Cherry Committee, Claudia Soler, and members of the Liao Ning Province Department of Commerce and Dalian Yidu Group.
"This agreement is very positive, since it allows us to advance in a better reception and distribution of our fresh fruits in the northwest and north of China, for the same reason, it allows us to diversify the destinations within the Chinese market," Marambio said.
"Likewise, with this agreement both parties commit to promoting mutual cooperation, as well as providing timely and effective support in relation to this cooperation. This agreement will benefit Chilean cherries and other fresh fruits in the markets of the North and Northwest of China."
Marambio said the MoU will improve in transit times and condition of cherries and other fruit, not just to China, but also countries such as Japan, South Korea and other regions in northwest Asia through the joint operation mode of "container + bulk + international transhipment".
Theh construction of a distribution centre for Chilean cherries in northwest Asia is also being considered.