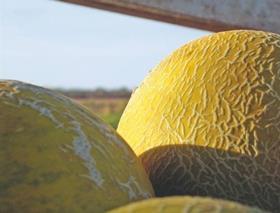 Brazilian melons are on the verge of gaining access to the Chinese market after more than 10 years of negotiations, according to Agriculture Minister Tereza Cristina.
Following a meeting between with her Chinese counterpart Han Changfu during an official visit by Brazilian President Jair Bolsonaro to China this week, Cristina said the protocol could be in place within days.
"Things are moving very quickly. In the case of fruit, we should soon be able to announce that Brazilian melons can be shipped to China and Chinese pears to Brazil," the minister said, adding that the final requirements of the protocol should be in place before President Xi Jinping's visit to Brazil on 13-14 November for the BRICS Summit in São Paulo.
Cristina noted that several important breakthroughs had been achieved since her previous visit to Beijing in May.
China is interested in importing a number of Brazilian agricultural products, including meat, cottonseed meal, soybean meal, sugar and ethanol.
Jorge de Souza, technical and project director at Brazilian fruit association Abrafrutas, believes China presents a significant opportunity for Brazilian melon exporters.
"Chinese consumers eat 57kg of melons a year, so the opening of this market has huge potential for us," he told Fruitnet.
De Souza added that China is also keen to source table grapes, avocados and limes from Brazil.
Brazilian fruit exports for the third quarter of 2019 were up 6.4 per cent in value and 11 per cent in volume compared to the year-earlier period. Exports to the end of September were up 13 per cent on last year, reaching US$513m.