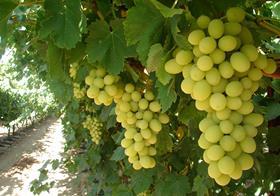 The California table grape season is in full swing, with pre-harvest volumes revised by the California Table Grape Commission (CTGC) to 104.9m cartons (8.6kg), down from its April estimate of 106.5m. This will see the current season finish in line with 2019 totals, when 104.99m cartons were harvested.
Kathleen Nave, president of CTGC, said estimating the crop is a detailed process, formally undertaken three times every year and takes a range of factors into account. "The significant amount of vineyard removal in 2019 appears to have been offset by new vineyards coming into production in 2020," explained Nave.
Noting that demand has been strong and steady, Nave said the expectation is for a positive season ahead. "Quality is excellent, and demand is strong in the US and in export markets, and grapes are a perfect fit for consumers in these complicated times: simple, flavourful, versatile, and full of health-enhancing phytonutrients that boost immune health."
With 65 per cent of the California table grape crop typically shipped between September 1 and the end of January, Nave said although grapes are typically considered a summer fruit, they are very definitely a fall and early winter fruit as well.
In the San Joaquin Valley, cooler spring weather saw the season get off to a slow start at the beginning of July. A heavier volume of Mexican grapes remaining in the market meant this slow start was somewhat welcomed by growers, however the overlap has become a recurring trend of late.
According to the USDA, US imports of Mexican table grapes have exceeded 20m cartons three out of the last four years with a record 23.5m cartons crossing in 2019.
The presence of Mexican fruit lingering later into the summer has mainly impacted Flame seedless grapes from San Joaquin and provided a marketing challenge for the California Table Grape industry.
John Pandol, whose company Pandol Bros is a major marketer of fruit from both sides of the border said Mexico's peak volume hits between mid- to late-June, whereas historically it's been more like the first part of the month. "This is all due to this ongoing varietal revolution that's turning seasonal timing on its head for both Mexico and California," said Pandol.
This varietal "revolution" as Pandol calls it, is going on in California's Coachella Valley as well. Growers there have been replacing decades-old vineyards planted to Sugraone, Perlette and even Flame Seedless to newcomers such as Great Green, Sweet Globe and red Timco. The downside is that Coachella's production this season fell to a shockingly low 2.42m cartons – down from 3.36m in 2019 and 5.34m in 2016. Twenty years ago, Coachella shipped 8.4m cartons of table grapes compared to Mexico's 8.9m.