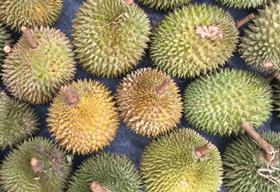 The Cambodian government has set its sights on gaining approval to export its durian to China and may consider prioritising negotiations over other fruit.
According to a report from The Phnom Penh Post, the Cambodian Ministry of Agriculturesaid it will conduct a study on the phytosanitary requirements to export durian to China.
Cambodia has access for bananas and mangoes and exports of both have surged to meet demand in China. It is currently negotiation access for longan but Chinese authorities will only consider one product at a time.
Cambodian minister of agriculture, forestry and fisheries Veng Sakhon, said durian was a crop with high economic potential but needed sophisticated care to maximise production and meet export standards.
He instructed the General Directorate of Agriculture to liaise with Chinese authorities and investigate what would be needed to enable durian exports to China.
"We should work with mango exporters and yellow banana distributors to gain more insight into the possibility of exporting Cambodian durian to the Chinese market in the near future," said Sakhon.
"Additionally, the General Directorate of Agriculture needs to update data on durian cultivation areas and yields throughout the country, and keep tabs – for research purposes – on techniques for cultivation, disease- and pest-control, and processing that comply with Cambodia Good Agricultural Practices [CamGAP], especially standards concerning export markets."