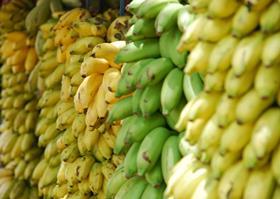 Five local Cambodian companies are now cleared for export of bananas direct to China after Chinese officials approved their farms and facilities earlier this week, Khmer Times reported.
Shipments would previously be sent via Vietnam, but the step can now be bypassed following an announcement by the Ministry of Agriculture this week.
The five approved companies are Longmate Agriculture, Long Sreng Hua Jian Agriculture Development, Green Island Agriculture Development, Sovann Reachsey and Grand Land Agriculture Development.
The facilities have been approved to meet certain requirements, and packaging must adhere to specific requirements with an accompanying phytosanitary certificate.
Longmate Agriculture director, Hun Lak, told Khmer Times that his company is planning a large initial shipment.
"Our first direct shipment to China will consist of 100 tonnes of bananas. The next shipments will be smaller, around three containers each, which equals about 60 tonnes," he said.
Longmate Agriculture grows bananas year-round in Cambodia's Kampot province.