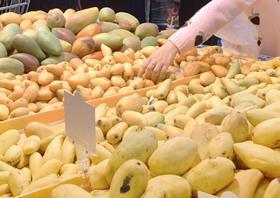 Cambodian mango exporters have their eyes set on securing direct access to China in early 2020 after a successful visit from Chinese customs officials.
According to a report from the Phnom Penh Post, representatives from the General Administration of Customs of the People's Republic of China (GACC) inspected Cambodian mango orchards on 24 November.
They also met with Ngin Chhay, the director-general of the General Directorate of Agriculture at the Ministry of Agriculture, Forestry and Fisheries.
Chhay told the Phnom Penh Post the officials visited mango orchards in five provinces and determined that the operations were satisfactory after conducting a series of assessments.
GACC officials were said to be pleased with the pest control in processing plants and the minimal pest damage and chemical pesticide use.
A number of areas were highlighted for improvement such as pest testing and records on insect damage. However, Chhay said Cambodia was working on addressing these issues to not only meet the expectations China but other potential markets.
"If China sees good mango plantations, more sites will be allowed to export in the coming February or March," Chhay said.
Vann Rithy, general manager of mango exporter Angkor Mango, told the Phnom Penh Post that some Cambodian mangoes are exported to China through Vietnam and Thailand. He said securing the ability to export directly to China would be a boost to the industry.
"When official mango exports to China receive the green light, Cambodia will see a lot of benefits, particularly in regard to prices," Rithy said.
"The previous need to export through neighbouring countries led to lower mango prices."