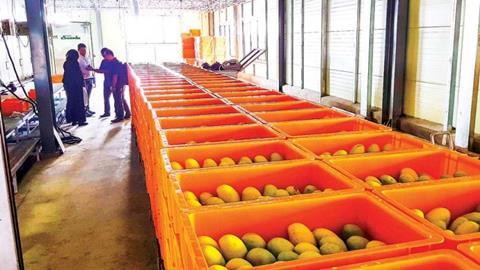 The first consignment of Cambodian grown mangoes will arrive in South Korea in early November, after the South Korean government's Animal and Plant Quarantine agency approved exporter Hyundai Agro's trade application.
With no cargo airplanes travelling between Cambodia and South Korea, the fruit must be shipped to its destination.
Managing director of Hyundai Agro, Chang Hoon Lee, told Cambodia'sKhmer Timesshipping the fruit poses no logistical challenges.
"We have a lot of experience and technical know-how to send produce by ship. It would take six days to reach the destination and we can maintain the fruit's freshness," said Lee.
The first shipment will be a relatively small 10-15 tonnes and the process to receive the South Korean government's approval was not without its challenges.
"It is a very tough process because there are really strict requirements when it comes to importing fruit, especially into South Korea,' explained Lee.
"However, everything will go as planned and, after we passed the requirement, this means there is no further problem for us. It can also be a signal to other countries such as China and Japan to export their mangoes," he said.
Although the exporter received approval, competing with the likes of Vietnam, Thailand, Peru, and the Philippines remains a challenge.
"Vietnam and Thailand have an air cargo connection with South Korea and enjoy a very low cost of transportation," noted Lee.
"Every day, Thailand sends more than 100 tonnes of mangoes to South Korea and they are dispersed everywhere in one day, while Vietnam's duties for mango exports are lower than for Cambodia because of the free trade agreement area."
The agreement comes following investment from Hyundai Agro into Cambodia's agriculture sector.
Last December, the company launched a three-hectare fruit processing facility in Kampong Speu's Phnom Srouch district.
The facility can process up to 50,000 tonnes of fruit a year, including coconuts, durians and mangosteens.
The Korean firm teamed up with local mango producer Mao Legacy to plant mangoes on 2,400 hectares in the province.
According to the Khmer Times, Cambodia's Ministry of Agriculture recently called on farmers growing "prioritised" agricultural goods to register with the ministry in exchange for assistance to help them meet China's stringent sanitary and phytosanitary (SPS) requirements.
However, only farms growing mangoes have registered so far, according to Ke Monyvuth, director of the ministry's crop protection and SPS department.
"We expect that fresh mangoes will be the next agricultural product that Cambodia exports to China and we are now working to provide technical assistance to farmers to prepare for the requirements of the Chinese market," said Monyvuth.