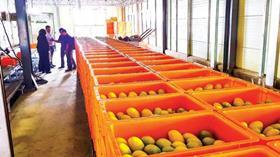 China's General Administration of Customs of China (GACC) has approved five mango packing facilities and 37 mango plantations for export.
The decision gives Cambodian mangoes official access to China and marks a major milestone in the process, which saw a protocol signed in June 2020, trial shipments in December 2020.
In March the GACC inspected the aforementioned sites and outlined improvements needed to meet phytosanitary requirements, changes that have now been made.
The five facilities approved by the GACC include Hyundai Mao Legacy, Shangda Jian Hui International Agriculture Product and Logistics, Al Jazeelan Food, Long Wo Agriculture (Cambodia) and Boeung Ket Fresh Fruits.
Penn Sovicheat, spokesman of Cambodia's Ministry of Commerce, told the Khmer Times China was a promising market for exporters.
"We consider the permission to export fresh mangoes to China a good opportunity for Cambodian farmers. It also represents the successful efforts of our ministry to enlarge our market access and diversify our exports, especially in the agricultural sector," Sovicheat said.
"The Ministry of Commerce will continue to facilitate the export process within the framework of our mandate."
The Chinese embassy in Phnom Penhalso welcomed the news in social media post noting the cooperation between the two countries.
"It is another significant achievement in the real cooperation between Cambodia-China during the spread of Covid-19 pandemic as it will boost collaboration and provide mutual benefit between the two countries' agricultural sectors,"the post said.