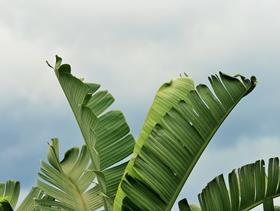 Cambodia's banana production has, in recent years, been steadily growing. A number of rubber farmers have pivoted to the popular fruit as way to make more money, with exports to China showing great potential.
Along the country's eastern border, the basaltic red soil is known to sustain larger rubber plantations, however the soil has its benefits in banana cultivation, too.
According to VOA Khmer, banana plantations are increasing in order to take advantage of a recent free trade agreement recently penned by Cambodia and China.
The agreement will be signed in August and will see no tariffs applied to 95 per cent of 340 approved products, including fresh fruits.
The FTA comes as Cambodia will lose partial tariff-free access to European Union markets. The revocation of the 'Everything But Arms' privileges is said to be due to the country's deteriorating human rights record.
China and Cambodia completed around US$8bn in trade in 2019. Cambodia's Prime Minister, Hun Sen, said the new FTA will help increase its export potential, even going so far to promote the traditional role and importance of Cambodian farmers in recent press conferences.
According to the Agriculture Ministry and Chinese Embassy statistics, there are 21 banana packaging plants in Cambodia, servicing roughly 8,000 hectares of plantations. While the ministry has not provided a country-specific breakup of exports, it said a large portion of the 160,000 tonnes of bananas exported for the first seven months of 2020 headed to China.
In Tboung Khmum's O'Reang Euv district a 200ha banana plantation, developed by Chinese national Chen Zhiqang, has cropped up. Zhiqang arrived in Cambodia in 2016 to partner with prominent tycoon An Mady to carve out the banana plantation from the latter's 3,600ha rubber plantation.
"Banana is currently undersupplied in China," explained Zhiqang, "Chinese people like consuming bananas [so much] that I had to come to a foreign country like Cambodia to invest in this farm and export it back to China."
Meanwhile another tycoon, Heng Long, has repurposed 1,000ha of his rubber economic land concession in Kampong Cham province to grow bananas. He was originally granted a 7,300ha land concession by the government for rubber plantations, but has been vocal in its declining value.
"If you keep growing rubber there can be only two results: loss or you break even," Long told VOA.
He said bananas were a more profitable option, which is why he tied up with a Chinese investor from Guangxi province in 2018 at an initial investment of US$20m.
"If we kept relying on rubber, we would not even be able to pay the workers' wages. Our company is envisioning a future in bananas because it has an emerging market demand with a very good price," Long said.