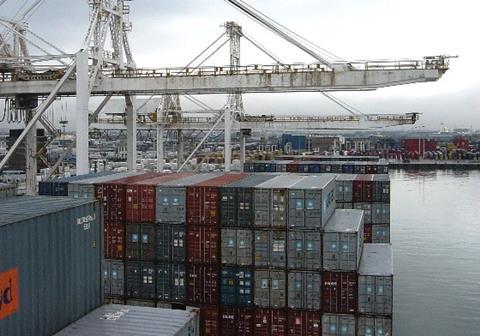 South Africa's Cape Town Container Terminal (CTCT), operated by Transnet Port Terminals, announced it broke an all-time record, processing 1,665 containers filled with South African table grapes, blueberries and plums over a single weekend.
The fresh produce was loaded onto the vessel Santa Clara, owned by Maersk, and was destined for European markets. The previous record stood at 1,200 containers over a weekend.
Acting terminal manager, Oscar Bochards, said the new record was encouraging for the team considering the recent vessel performance had improved by 63 per cent.
"The reefer season is from October to April, a sensitive yet very critical operation for the country's economy – and we take pride in preparations we make to ensure that fruit is moved within schedule," said Bochards.
"Unfavourable weather conditions, including strong winds, could have impacted us negatively. However, the team and the collaboration with the customer gave us a winning combination."
Annually, CTCT moves over 180,000 containers with a noted increase of 615 containers gated per day this season compared to 395 last season.
Agriculture remains a significant sector for South Africa, spurred by government initiatives to grow and develop farmers countrywide, both established and emerging.
Transnet acting group executive, Mohammed Mahomedy, said the record was in line with the company's growth strategy.
"It is our mandate to lower the costs of doing business in South Africa," said Mahomedy.
"This is a huge economic contribution to our economy, and it was made possible due to the unprecedented teamwork and integrated approach offered to the customer and in particular our farmers during the grape season and our collaboration and partnership with key partners such as Maersk".